Exercising with back problems
Back pain is one of the most common complaints that the Vintage Fitness personal training hear from clients during our first visits. There is a huge range of underlying problems including:
Degenerative joint disease such as arthritis which causes pain and lack of function
Disc issues (eg slipped disc, bulging disc). Discs act as shock absorbers and help with spacing and to hold the bones on top of each other. Sitting can often be painful
Scoliosis is more common in females and will cause uneven hips and shoulders to the curvature in the spine.
Spinal stenosis is a narrowing of the spinal canal which puts pressure on the spinal core causing pain, numbness and weakness.
Each of these back problems is unique but there are a few guiding principles when exercising with back problems
Don't sit for long periods of time- movement is good for the back
Train muscles that support the spine such as the rhomboids in the mid back
Train the muscles that surround the spine (bird/dog exercise below does this)
Control your weight
Don't do bent over toe touches, crunches or sit ups (lots of other ways to safely strengthen your abdominals)
A few great back exercises
Back Row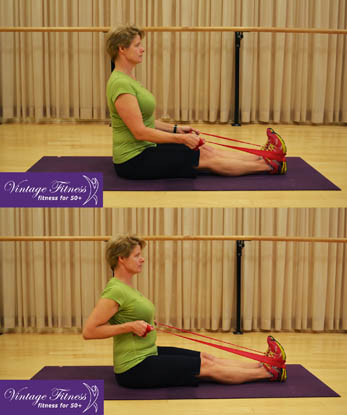 Benefits of the exercise
Strengthens the upper and mid back
Tips
Keep a tall spine
Keep the shoulders relaxed
How many should I do?
---
Bird/Dog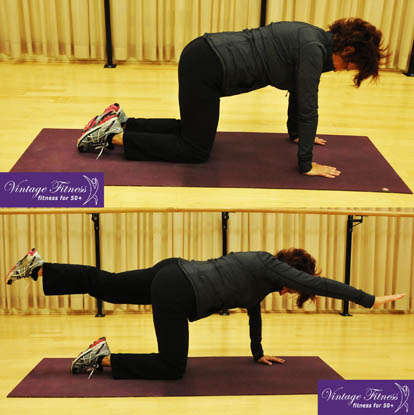 Benefits of this exercise
This exercise is great for balance and brain health.
Tips
Line your hands up underneath your shoulders and your knees up underneath your hips.
Keep your hips square to the mat as you extend your left arm and right leg and then switch sides.
How many should I do?
---
This is a 12 week blog series discussing common medical conditions and exercise prescriptions for the older adult.
If you would like a free consultation about how Vintage Fitness in home personal trainers could help you or your family member get stronger and more energized drop me a note erin@vintagefitness.ca
Good Luck!
Erin
Vintage Fitness
Vintage Fitness is an in home personal training company in Toronto, Canada. We specialize in energizing the lives of people over 50 with exercise.