Arthritis and Exercise
What does the Scientific Research Recommend?
Many of the personal training clients who work with Vintage Fitness trainers have some form of arthritis. The arthritis societies booklet about arthritis and exercise says that:

The word arthritis means inflammation of the joint ("arth" meaning joint and "itis" meaning inflammation).Inflammation is a medical term describing pain,stiffness,redness and swelling. There are more than 100 types of arthritis.Some are caused by joint inflammation,while others are caused by joint degeneration. Arthritis is among the leading causes of disability in Canada, affecting nearly 4.5 million people of every age,physical condition and ethnic background." Here is a link to the complete booklet
The most common among our client base is osteoarthritis in the knees, shoulders, hips and hands
Symptoms include stiffness in the joint (especially in the morning), potential loss of range of motion and pain when doing certain movements.
There are many scientific research studies which highlight the benefits of exercising for people with arthritis.
Arthritis Care and Research conducted a study with 346 people (mean age of 70) who participated in an 8 week PACE (hour long low impact exercise program developed by the arthritis society). Individuals who attended the class for four months were found to have reduced their pain by 24 percent and increased confidence in their ability to continue activities by 22 percent
Volume 59, Issue 1, pages 92–101, January 2008
"Managing arthritis with exercise" a study in geriatric nursing explains that "Regular exercise is an important therapeutic intervention for all types of arthritis. Specifically, regular exercise can prevent deconditioning of the muscles, keep the joints stable, improve joint function and flexibility, decrease pain, enhance aerobic fitness, improve balance, and decrease falls. A comprehensive exercise program should include stretching exercises followed by a range-of-motion program for joints, muscle strengthening, and aerobic exercise" (Volume 22, Issue 3, May–June 2001, Pages 143–150)
Low impact and strength exercises are an important part of managing the symptoms of your arthritis.
Tips for Exercising with Arthritis
Exercise will strengthen the muscles around your joints, build bone strength, help to maintain a healthy weight to reduce stress on the joints. An arthritic joint that is not moved will become more stiff and painful than one getting some movement.
Here are a few tips to keep in mind:
Applying heat (warm compress) to the joint before exercising may get rid of some stiffness
Warm up for 5-10 minutes with light marching, shoulder and neck rolls and easy walking
Plan your exercise at a time when feels right for your joints. You may need some time in the morning to get moving before exercising so mid morning or early afternoon may work best.
Incorporate a variety of low impact types of exercise including range of motions exercises, strength building and aerobic exercise. Next week I will share an exercise program that incorporates all 3 elements.
Apply cold to the joint after exercise if it feels inflamed. If you have sharp pain in the joint more than two hours after exercise you have pushed the joint too far.
Osteoarthritis Exercise Program
This is the last of a three part series all about arthritis and exercise. There are over 100 types of arthritis so all of these exercises may not be right for you. Listen to your body, if you experience sharp pain when doing the exercise then stop. If you have questions call Vintage Fitness (416) 951-7978 and talk to one of our 50+ experts in 50+ fitness.
Warm-up:
Gentle march for 2 minutes
Side steps for 2 minutes
Stair climb for 2 minutes
Small squat 15 times (just to warm the knees up-just a slight bend in the knees)
Range of Motion Exercises:
Shoulder mobility

Benefits of the exercise:
Improves circulation and reduces stiffness in the shoulder
Tips:
Let your shoulder that is moving relax
Keep your shoulders away from your ears
Only move in a range that is comfortable for your shoulder
How many should I do?
10 circles on either side
---
Neck Mobility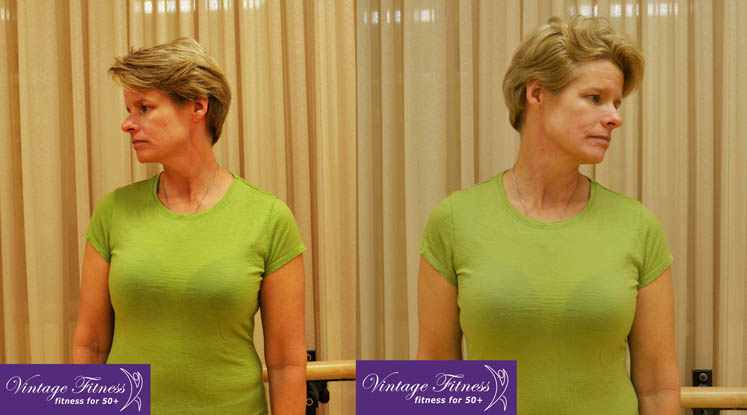 Benefits of the exercise:
Improves posture and reduces stiffness and pain in the neck
Tips:
Circle the head slowly around
Keep your shoulders relaxed
Hold for a few seconds in tight spots
How many should I do?
---
Muscle Strengthening:
Squat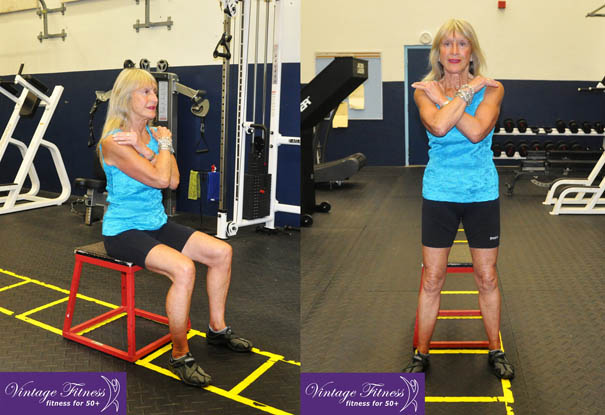 Tips:
To make this harder use hand weights or squat slower
Stand tall and look forward
How many should I do?:
---
Bridge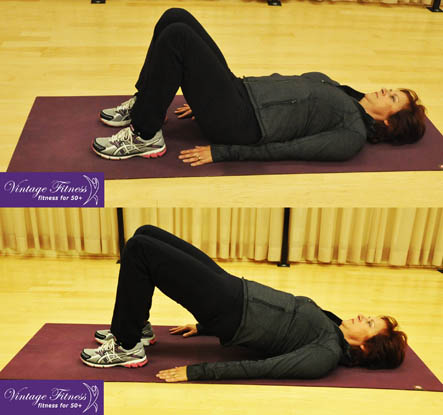 Benefits of the exercise:
This is a great exercise to strength the muscles of your gluts (buttocks) and eases pain in the lower back.
Tips:
Keep your feet close enough into your bum that you can graze your hands on the back of your shoes
Lift your hips to knee height
How many should I do?:
---
Aerobic Exercise
Stair Climb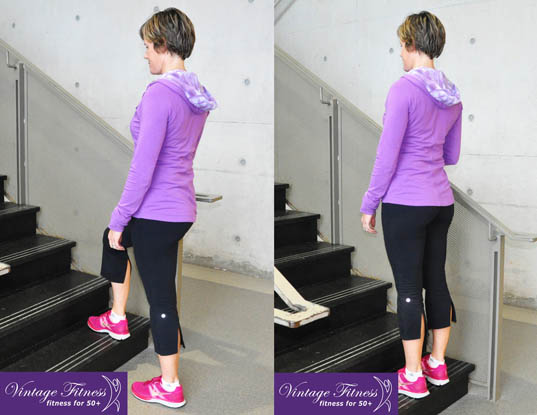 Tips:
Go at a pace that you would rate 6 or 7 out of 10 (exertion scale)
Stand tall and look forward
How long?:
---
This is a 12 week blog series discussing common medical conditions and exercise prescriptions for the older adult.

Want to learn more? Book a free virtual training session with a 50+ fitness expert.

Good Luck!
Erin
Vintage Fitness
Vintage Fitness is an in-home personal training company in Toronto, Canada. We specialize in energizing the lives of people over 50 with exercise.